OK so I had pretty much thought that I would not see New Moon opening weekend, nevermind opening night. See Joe had been gone most of last week for a convention in Vegas & was going to have to work hard to catch up. I figured it would happen just not sure when.
I knew the priorities.....
Then Joe made the suggestion Saturday that we go if my sister could watch the girls. Luckily I have an AWESOME sister who was able to make the night happen. So I got to see it thanks to
"My Edward"!!
and amazingly enough the theater wasn't
CRAZY
like
last time
. This time the people managed to keep their hormones in check until the 1st time Jacob took his shirt off.....then it was LOUD.
Wanna see why??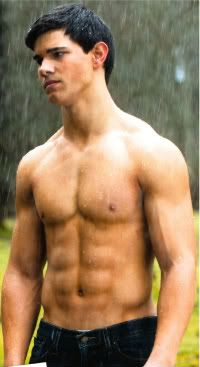 Hard to believe this is the same guy that played
"Shark Boy".
WOW
did he grow up! I'm still Team Edward though...I'm a sucker for all the romance.
The chick next to me was fine until about halfway through the movie then she started whispering loudly & annoying me.
But all in all it was a good movie. Better done than Twilight, the special effects were AMAZING! And I found out Eclipse will be in theaters
June 30th!!
We won't have to wait as long between movies!
HAPPINESS!!!